Well good Friday to you...
Not like, "Good Friday", the Easter holiday, but yeah, you get it...
Soooo...
Sorry for not blogging yesterday... I had to get my 'ducks in a row' as it were, as I'm at Yuk Yuk's in Ajax all weekend EmCeeing for the ever-delightful and always-hilarious
Nikki Payne
. Ajax. Yeah. Quite something. I stepped out of the car, looked around, and remarked out loud: "... ... ... people
live
here?" But it's just about as enjoyable as ever - really great, enthusiastic crowds and Miss Payne fucking destroys it. DESTROYS. We're there tonight and tomorrow night, so if you're a burb dweller east of Toronto, come the fuck down, y'all!!!
Moving on...
BIG NEWS!
Well, it took them 10 '
cycles
', but Tyra Banks & Co. have finally crowned a plus-sized girl America's Next Top Model!!!
Thaaaat's right - congratulations
Whitney Thomson
!!!
Whitney - and don't get me started on how awesome her name is in the first place - did what many thought the impossible, and outlasted traditional ANTM skinny bitch model fare (how many people thought Somalian beauty
Fatima
or positively translucent
Anya
was gonna take it?) to become the first full-figured winner of America's Next Top Model.
I was very happy. Whitney was my fave from
almost
-day 1. And, as per usual, I was expecting her ouster from about week 2 onward as they never, ever keep the big girl. Traditionally, 'cracks start to appear'... the girl looses her confidence... she's not servin' up the
fierce
ness... so I was delighted that Whitney finally broke that trend.
And yes yes yes, there's a firestorm of
rumours
out there that she was asked to apply when she was modelling a size 2, being told that they'd have her on the show as the 'plus-sized girl' if she gained 20 pounds (rumours that are certainly supported by these
pre-ANTM shots
of her) and blah blah blah... so yeah, that all very much discredits her 'struggle', but whatevs... I choose to celebrate her appointment as America's Next Top Model on principal. So fuck it.
Anyway, to celebrate America's Next Top Model crowning its first-ever plus-sized winner, and because I haven't done a Top 10 list in a coon's age... I now present:
MY TOP 10 PLUS-SIZED SISTAS... EVER!!!General Note
: This list is for tried and true full-figured ladies. NOT for ladies who were formerly livin' large then lost it (I'm looking at you
Ricki Lake
,
Carnie Wilson
and
Starlette Jones
...) nor for bitches who started thin then gained (
Kirstie Alley
,
Sally Struthers
, surprisingly even
Rita MacNeill
...)
10.
NELL CARTER
Star of stage (
Ain't Misbehavin'
) and screen (
Gimme A Break
, much?), the squeaky-voiced Nell Carter worked it out with two breasts as big as planets for her entire time with us. Sadly, she passed away due to heart-disease and complications from diabetes (and some rumoured c'caine use somewhere up in there as well...) in 2003, but her legacy survives... mainly through
this
.
9.)
CAMRYN MANHEIM
One of the most outspoken poster-girls for ladies of a certain girth, Cammy Manheim is most recognizable as Elenor Frutt on the long-running legal drama
The Practice
(and of course, as over-eager Yearbook editor Toby in
Romy & Michele's High School Reunion
, whom Jeneane Garofalo's character keeps telling to 'fuck off'). Her big break almost never happened: she was constantly told she'd never play anything except for nurses and prison wardens, she won her star-making role of Elenor Frutt by beating
Practice
creator David E. Kelly at a game of cribbage. Her book, "Wake Up, I'm Fat!", continues to serve as a bible for big girls everywhere...
8.)
KATHY BATES
Oscar-winner for her turn as the demented Annie Wilkes in
Misery
, and Oscar-nominee for her turn in
About Schmidt
in which she let it all hang out... and out and out and out in a much-talked-about hot-tub scene. Kathy Bates basically rules. Basically. Just don't swear around her or she'll break your fucking legs.
7.)
ROSEANNE
Ahhhh Roseanne Barr Arnold Thomas Barr - the O.G. full-figured force to be reckoned with. Star and producer of the greatest sitcom in the history of television, the self-titled "Roseanne", she defied convention and redefined what was formerly considered sexy and funny with each passing episode. Although her career has all but petered out lately, we'll always have Lanford...
6.)
TOCCARA JONES
The apparent poster girl for full-figured women of colour, Toccara rocketed to fame as the sassy requisite plus-sized girl on the third season of America's Next Top Model. The constant stand-out, she won the "Cover Girl Of The Week" viewer poll nearly every week until she cast off at seventh place... (every season, they always cut the plus-sized girl RIGHT before they went abroad... I guess they thought they could cut air-fare costs by shipping a lighter load... who knows). Since then she's become a BET staple and regular on
Celebrity Fit Club
... and frequently appears in several black men's magazines displaying her best assets... apparent standout quote from the above article, "People been talkin' about my booty. That's a new experience for me". Me as well Toccy, me as well.
5.)
MARISSA JARET WINOKUR

I'm not entirely certain, but I'm quite confidant that if you scrouned the earth you could not find a more effervescent person than MJW. First appearing on everyone's radar as Kevin Spacey's boss at the drive-thru in
American Beauty
, Marissa became a legend when she stepped into the Buster Brown's of Tracy Turnblad, originating the role in the Broadway production of
Hairspray -
eventually winning the Tony award for it and delivering an acceptance speech to rival Halle Berry's. She broke ground again very recently by cracking the semi-finals of
Dancing With The Stars
, only to be voted off this past week... whatever... she fucking rules...
4.)
MAMA CASS
Light-years ahead of her time, Mama Cass was the ballsy, brassy star of 60's melodic quartet The Mama's & The Papa's. Sort of the prototype of Tracy Turnblad - spunky, portly chick with a voice as big as her confidence... she's even from Baltimore! - no one else came remotely close to what Mama Cass was sellin' in the mid-60's, and no one has since.
This clip
of her doing "Dream A Little Dream of Me" on The Smothers Brothers show = perfection.
3.)
DEBRA DiGIOVANNI
Yaaaaay a homegrown entry! That's right - beyond being one of the quintessential female presences in comedy, Deb DG stands as the comedic voice for the big girls out there in Canada nd soon:
THE WORLD
.
2.)
JANN ARDEN
Keep the CanCon comin' - who doesn't love this "
Insensitive
" Canadian singer/songwriter who once famously recalled being told that she "was 20 pounds away from being a superstar". As famous for her onstage banter as she is her solid melodies, who the balls doesn't love Jann Arden???? Not me, that's for certain... as per evidenced by this picture I had taken with her at Brockville's Riverfest celebrations back in 1998:
Yep. For those of you who didn't believe that I had the EXACT same haircut as Backstreet Boy Nick Carter in the late 90's, BELIEVE IT.
But
There
Can
Only
Be
1.)
MICHAEL LAWRENCE DOYLE YERXA
Pictured in one of my proudest photoshop creations, my best co-fag beats all these bitches HANDS DOWN. Y'welcome baby - y'Numba 1!!!
And no... Beth Ditto's not on the list... she kinda scares me... deal with it...
In other news:
AHHHH!!! ALMOST A WEEK AWAY!!!!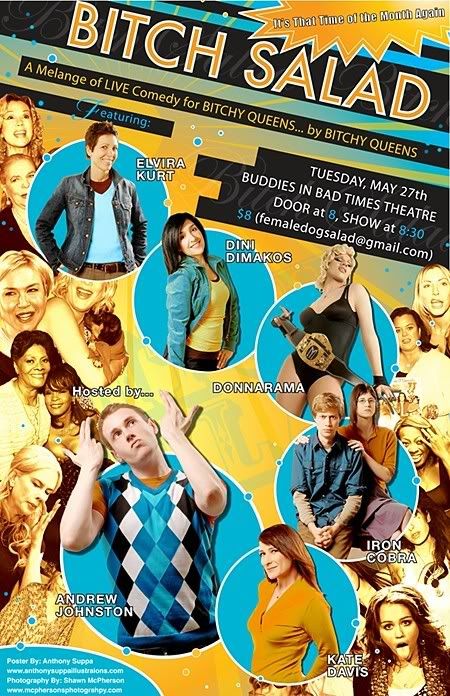 Gotta go to Ajax,
People
live
here?
--- Aj