Hellohellohello.
Is everyone's ass sufficiently rocked from that Madonna track? I gathered as much.
So, Ellen Page on SNL. Yeah yeah yeah. I came home Saturday night lookin' and feelin' a HOT mess, grabbed me a bag of Quaker crispy minis and made short work of it. Initially, I found it very underwhelming and entirely unhillarious, but upon revisiting it in a sober state, I've concluded that it was actually quite funny.
The Dakota Fanning show is fucking genius.
Dakota
: "Who's your current celebrity crush?"
Girl
: "Umm, Zac Efron"
Dakota
: "Mine's Charlie Rose!"
That Peter Pan sketch made me barf it was so ridiculous. The Diablo Cody by-way-of Andy Samberg thing was hysterical - and also potentially inspirational in terms of this year's Hallowe'en costume, by the by. Lovely to see Virginica Hasting, as per always ("I'm only 18!", "Inches?"). NOT lovely to see that Maya Rudolph has not yet returned. I've gotta tell ya, I'm holding my breath here. And it's not comfortable...
Obviously, the out and out highlight of the night was "The Other, OTHER Boleyn Girl" - a joke I had already made last week on my facebook status with respective photoshopping:
... But yeah. They did it on SNL. I can only assume that they took a page from me, though. Yeah? Yeah? No.
And of course the sketch that everyone's talking about - the very last sketch of the evening which everyone's touting as Ellen Page's big coming out moment:
I watched it and was like "Was that supposed to be funny? Or did she just spend 3 minutes unfunnily coming out?" Still unclear.
Anyway...
As I do, I was perusing tonight's television listings on the good old Zap2It.com - as I don't like to be left in the dark if a program of interest is on - and noted SEVERAL things on tonight that I won't be watching.
1.)
My Dad Is Better Than Your Dad, 8 PM, City TV
Oh Jesus Christ. Really? Has it come to this? Fuck.
Yep. In the place of the awesomeness that was the second coming of American Gladiators, the suits at NBC dreamed up this little miracle... May God help us all...
A Mark Burnett creation, "MDIBTYD" will see four dads paired up with their kids compete in stunts, quizzes and general tomfoolery.
There are Four Rounds:
Round 1: 'My Dad Is Stronger'. Apparently in the first episode the challenge was to see the dads
destroy desks for two minutes
and who ever does the most damage wins. Yeah. I'm not kidding.
Round 2: 'My Dad Is Faster'. Same deal. My dad sure as fuck wouldn't win that challenge. When you drive with my father, every day is Sunday. Sheesh.
Round 3: 'My Dad Is Smarter'. This one's fucking genius... apparently they assume a quiz show format with questions popping up - only the kid rings their dad in, and dad has to answer the question. That's completely retarded.
Round 4: "My Dad Is Braver". From what I can tell, this is just sort of Round 1 + Round 2 combined. The first episode sees them carrying around a pane of glass trying to dodge newspapers that are being shot at them from the rival dad. It all just seems to be getting more retarded by the second...
Round 5: "My Dad Knows Me Best". Pretty self-explanatory. They get 10,000 bucks for each right answer.
Holy fuck. This shit just reeks of Americana... and that in itself smells like pig spunk. Fuck. Like for real - look up "Americana" and this fucking show should be referenced as the most accurate embodiment ever. They might as well have just televised a potato-sack race and called it a fucking day. Whatever.
2.)
Toller Cranston: The Art of Being, 9 PM, Bravo
Let's not holler for Toller.
Oh Jesus. Toller Cranston makes me want to barf and cry at the same time -
so profusely
, that I don't know what's barf and what's tears.
Known as the godfather of Figure Skating, he's now a painter living in Mexico. Not like painting houses, mind you, but actually making art work.
Have you ever seen this assache in interviews? He's like this elfin prince from another realm. It absolutely drives me nuts.
Anyway - there's an hour-long fucking documentary on tonight about Toller, in the autumn of his years, and his art.
I have to imagine that it's going to be insufferable.
Something I WILL be watching, however...
Mr. & Mrs. Smith, 8 PM, Global
Oh hells yes. The movie that started it all.
I saw it in theatres years ago when it came out, which is very unlike me as I never venture to the theatre, let alone to see an action film.
But I did. It was smack dab in the middle of all the swirling rumours that they were together and Angelina sexily snatched Brad from America's sweetheart, Jennifer Aniston. I was sitting there, in a packed Cineplex with everyone else who was there for one reason and one reason only: because we felt that if we saw this movie, we might be granted some sort of insight into these rumours that would only be exclusive to us. Really, that's why everyone fucking went to that movie. To see if the chemistry was real.
And boy-o was it ever. Shit. The shit sizzled. And yeah, it's not a bad movie either. I'll probably take it in for a second time...
Something I'll DEFINITELY be watching: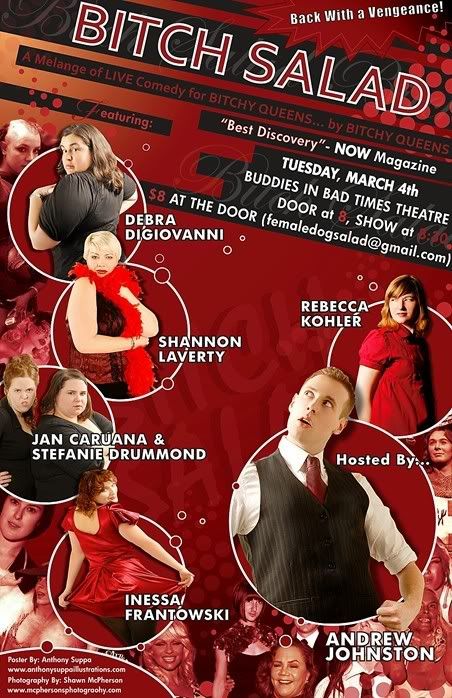 TOMORROW TOMORROW TOMORROW TOMORROW TOMORROW TOMORROW TOMORROW TOMORROW TOMORROW TOMORROW TOMORROW TOMORROW TOMORROW TOMORROW TOMORROW TOMORROW TOMORROW TOMORROW TOMORROW TOMORROW TOMORROW TOMORROW TOMORROW TOMORROW TOMORROW TOMORROW TOMORROW TOMORROW TOMORROW TOMORROW!!!
Yes.
If you don't come, I'll kill myself.
Then haunt you.
Specifically, you're asshole.
--- Aj