D'afternoon to y'...
So... last night we bid adieu to the muppet and the catcher's mit...
Talkin' 'bout Jason Castro and Dominique, from American Idol and America's Next Top Model, respectively and respectivelier...
Two of the more polarizing, entertaining contestants of their respective televised reality derbys, both were shown the door last night met with two single tears shed precisely an hour apart.
Jason's future could be promising... He could go the Jack Johnson route, make some idiosyncratic records about being shy and snorkeling in the springtime - maybe even sell his hair - why the balls knows?! The world is truly his oyster... for approximately the next three weeks...
Dominique, howevs... not too promising... I can't the tranny-catcher's mit hybrid rollin' in opportunity... I supposed if ever
George Hamilton
was starring in a prime time soap and his character had a tranny sondaughter or something, Dominique would certainly be on the shortlist to play himher... And she can certainly speak some mean mock-Italian... anyballs, best of luck to both of them.
In other news:

I have gotten downright lacksadaisical about keeping up this Bitch I Loved/Hated this week posts and that stops NOW!
So yeah... here they are for last week...
BITCH I LOVED THIS WEEKCHRISTINE MARINONI
(pictured, the the right)
Who
: Ginger-haired campaign manager for the New York state branch of the Alliance for Quality Education who rocketed from anonymous citizen to bonafide Hollywood arm-candy when she entered into a relationship Sex & The City star
Cynthia Nixon
.
Why I Loved Her
: Christine MariNOni? More like Christine MariYESni! ... Marinone's basically epitomizes everything I envy about lesbians... namely: you can look like that, but because she's got such a beautiful
spirit
, she gets to bump rugs with Miranda. WTF?! You know what - go on wit'ya bad self, Marinone's...
BITCH I HATED THIS WEEK
CHERYL BURKE
Who
: Overly gregarious clam-faced supposed-24-year-old dancer who's sky-rocketed to somewhat fame and somewhat infamy as a mainstay dancing partner on super-lame Celebreality paso-double-fest,
Dancing With The Stars
.
Why I Hated Her
: Sometimes it's just as simple as the fact that I don't like y'face... and this is almost that simple - but yeah, this woman does as much as possible to force herself into the foreground of DWTS as humanly possible... and does she have an affair with EVERYONE she dances with? I'll bet she tried to get all up in Marlee Matlin's business (and succeeded, to a point, as I'm sure Marlee didn't hear her coming...) Anyway... yeah...
Have I made sense at all today? I doubt it... ah well..
SO...
GUESS WHAT'S UPON US AGAIN?! IN JUST SHY OF THREE WEEKS?!?!?!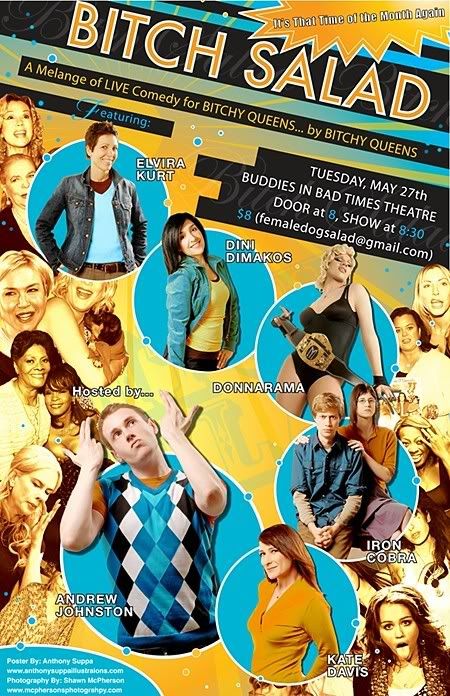 Yeppy.
Talk tomorrow...
--- Aj