Straight up: I'm hungover right now.
I kind of have been all week. It's been one of
those weeks
. But I won't get into that right now. I've had a little bit of a
situation
to deal with that I'm mere steps away from being Katharine-McPhee-quotingly "Over It"... but yeah...
WHAT A WEEK!
Through my boozey haze, it's not gone unnoticed how crazy things have been... firstly, there's been some sort of kerfuffle in the financial world that my boss and other crazy rich people like him are in a downright tizzy about.
CRAZY, TRUE STORY: He actually needed to go to a funeral this week of some financial dude he knows who committed suicide because of it!!! It's like the old tymey days of the depression when stock brokers jumped out of windows and people have to ration bread crumbs!!! Hot diggity, somebody put on some music for me to Charleston to!
Anyballs... I'm in the arts living directly ON the poverty line, so not too much is going to change for me.
We have an election coming up here, as well... this coming Tuesday, October 14th... which just so happens to coincide with: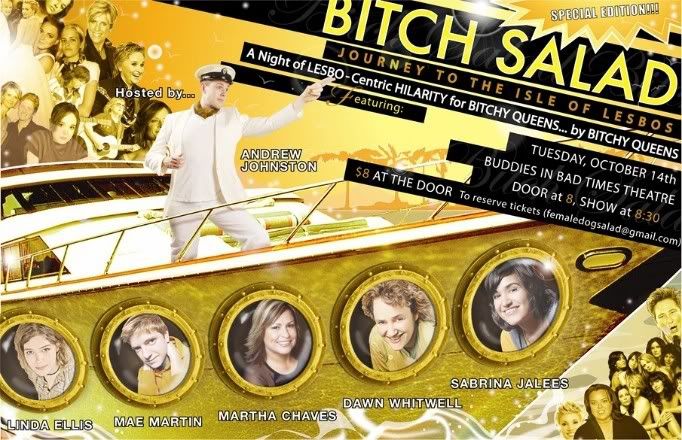 THAT'S RIGHT!!! THIS COMING TUESDAY!!! Go and vote, then celebrate the democracy you've just demonstrated by taking a Journey to the Isle of Lesbos!!! FUN!
OH - and, because if we at Bitch Salad are anything we're topical, we'll be welcoming SUPER SPECIAL GUEST... ... ... ...
SARAH PALIN
!!! Yep!
She'll be stopping by to promote lesbianism as a form of abstinence. Because really, that's what it is. I mean, what exactly happens there?! Not sex, that's all I know. = )
Anyballs...
As I was saying, we do have an election coming up, and as such, I was invited to come and do some talking head thing for MTV.
It was perhaps 5 minutes before I shot this that it occurred to me that I don't even remotely follow Canadian politics and have absolutely no fucking clue what I'm going to say.
I think I just kept saying "I love that bitch from the Green Party! She's CRAZY!" over and over again. I also think I said I liked her because she was like Vicki Gabereau-meets-Courtney Love. I found out some time after this that her name is Elizabeth May, of course. I had no clue at the time. So yeah. That didn't go so swimmingly...
I'll be voting Liberal, natch. Always have, always will. But I live in Jack Layton's riding, so it won't make much difference.
One piece of homegrown Election news that I found interesting appeared to me on my daily scanning of
Queer Click
(the link is extremely, purposefully NSFW... so don't go there lest ye be bombarded by images of cock...) - which is basically a blog that rounds up gay porn site updates (with a pretty blatant penchant for foreskin, but that might just be me) that occasionally includes a round up of news stories relevant to the gay community, and
this little item
jumped out at me...
In short... the lone gay conservative candidate, like, ever, resigned because of controversial comments he made on a [now-defunct] blog.
Comments to the tune of: "Allow law-abiding citizens who are qualified and trained to carry concealed handguns for personal protection. It's the only proven way to reduce violent crime and murder. If women and gays really wanted to stop being victims of hate crimes, they'd be in support of this, but judging from discussions, they'd rather be helpless and rely on government."
Y'know, good old fashioned crazy-talk like that.
CRAZY TRUE STORY: I went to University with him. I believe he's actually on my facebook. I seem to recall getting an invite from him to an event entitled "I'm voting conservative in the next election!" and was like "SHWHAT?! Helllllllllll to the no." and then thought to myself, "Isn't he a fag? And he's
conservative
? Now I've seen everything". So yeah. Nuts!
Wasn't all of that completely pointless and incoherent? It's what happens when I attempt to talk politics. I should just stick to what I know...
And what I DO know, it's hot, crazy bitches...
I.E. - my new obsession...
KLYMAXX
!!!
I don't know why Klymaxx aren't a bigger deal. Klymaxx was 6-piece, all-girl band made up of a gaggle of dark 'n lovely sistahs each darker and lovelier than the last. Of note: they all played instruments. More of note: their signature touch included a boastful, sassy monologue at the beginning of their songs - not a rap, mind you, but a monologue. Check this shit out:
Yep... let's review that...
"Uh, I had to leave my condo to come to this /
Well, I'm back, but this time I'm with my man /
And these women are puttin' their hands all over his Yamamoto Kanzai sweater that I bought /
And I'm much, much unhappy about that /
I'd hate to come down to their level and become a BW - A Basic Woman /
But if they don't stop it's gonna get scandalous"
Yeah. For real. AMAZING!!!
And
this
:
Again, review...
"I know I was lookin' good /
I had my Kenneth Cole shoes on /
My Gianni Versace blue leather suit /
My nails were done and my hair was fierce /
And I was riding in a Cooper's limousine /
Don't you want to ride..."
I'm really starting to get the impression that these ladies are quite tasteful. What with the mentions of driving in Cooper's limousines and the wearing of a blue leather suit. Oh-la-la.
Anyballs... I'm about to peace out for the weekend. Back to Brockville, cuz y'all, it be Thanksgiving.
But before I go, here's something for your weekend... it's the Bitch Salad: Journey To The Isle of Lesbos mix!
Originally, I had intended to make the mix, like the show, entirely Sapphic, and strictly feature remixes of artists who eat pussy.
As you can imagine, that was a little limited.
So I just said "EFF IT!" and went top 40... the tracklisting...
John Legend feat. Andre 3000 - Green Light (Johnny Douglas Mix)
Coldplay - Viva La Vida (Telemitry Mix)
Katy Perry - Hot 'N Cold (Jason Nevins Mix)
Hilary Duff - Reach Out (Touch Me) (Chico & Bermudez Mix)
Tami Chynn feat. Akon - Frozen (Ralphi Rosario Mix)
Vanessa Hudgens - Sneakernight (Alberto Castillo Mix)
Kreesha Turner - Don't Call Me Baby (Digital Dog Mix)
Chris Brown - Forever (Bobby Bass & J Remy Mix)
Jordin Sparks - One Step At A Time (Jason Nevins Mix)
Pink - So What (Bimbo Jones Mix)
Natasha Bedingfield - Angel (Moto Blanco Mix)
Neyo - Closer (Norty Cotto Mix)
Jilly Scott - Golden (Grant Nelson Mix)
Lindsay Lohan - Bossy (Soulshaker Mix)
Download/Listen to it
HERE
!
Have a great weekend.
Try not to come down to the level of a BW - a Basic Woman.
--- Aj