Sorry...
I watched "The Colour Purple" for the first time this weekend, and I've kind of become obsessed - er, pardon me - I'ZE kind of become obsessed, mista.
"The Colour Purple" is an epic tale from the pen of Alice Walker - the quintessential be-dreadlock'd, cowell neck sweater-wearing, over sized gold jewellery-sporting African American poetess/noveless - and starred both Whoopi Goldberg and Oprah Winfrey in both their Oscar-nominated feature film debuts. The story centres around Celie - a poor, shy, unattractive black girl living in Georgia at the turn of the century who's raped and impregnated by her 'Pa not a'once but a'two time, then finally sold off to a man named 'Mister' (Danny Glover) to be his mammy.
I always thought a mammy was just an olde-tymey black maid a-la Mammy in "Gone With The Wind" or mayhaps Aunt Jemima, but apparently it's just like a being a wife against your will. So there's no pretense that they weren't strictly there to cook, clean, look after the chil'lins, and have sex whenever and wherever they massa done pleased so. Quaint.
Anyballs... the story follows Celie's journey to build her self-esteem in spite of Mister always trying to knock her down. She's flanked by a colourful cast of characters - none more colourful than "Shug"... a juke-joint chanteuse who doubles as Mister's mistress and apparently as Celie's lesbian lover, although that storyline isn't explored in the film.
At first I was all, "this is Brutal Rapefest 2007", but then I grew to love it; particularly whenever Oprah's character 'Sofia' punched someone in the face. That was pretty awesome...
*Sigh*. Add 'Sofia' in "The Colour Purple" onto the pile of roles that I should play but improbably (but not impossibly) won't.
I'm so obsessed with "The Colour Purple" that Monday night when I was at a show, this girl walked by wearing some unusual pants and I was heard to remark, "Look! That girl's wearing Miss Celie's Folkpants!"... I'm not exactly sure what "Folkpants" are, but they NEED to make a come back. Are you listenin', Old Navy? Good.
I might actually read the book now, my interest is that piqued. Or, at the very least, pen my own seminal coming-of-age novel about black women growing up in the south at the turn of the century. Only this time: it's THEM doing the raping. *HIGH FIVE*!
Anyballs... sorry I haven't blogged in the past two days... Monday I needed to tape a host audition for yet another Slice Network show... I can't wait until I find out how the cards fall with that one so I can tell you the premise of the show... it's a real hum dinger, let me tell ya...
Monday was Remembrance/Veteran's (well, the successful Veterans) day, and I meant to do a blog on that... so meh... full steam ahead.
I didn't wear a poppy this year. I don't know as if I ever wore a poppy. I'm sure I must have because I sort of flinch whenever I see someone put one on, which leads me to believe that I pricked myself with its unguarded pin-point at some point. Yes, I'm sure that's why, so yeah, I totally did.
Veteran's Day in the states is supposed to be about celebrating all the Veterans, but it's so not. It's only about celebrating the successful ones from World War's I and II, and the Korean War. Fuck Vietnam and super-fuck the misadventures in the Middle East. On that note, not much fan fare is made about the troops in Afghanistan here in Canada where we have Remembrance Day. But certainly fan fare and a solemn trumpet solo is well deserved to commemorate the lives lost fighting Nazis and the like.
Apparently I have an uncle, still alive, who was a war hero. Apparently he escaped from a Nazi camp. I know I've met him before - he seems pretty cheerful and quiet. Not the type that screams "I ESCAPED FROM A NAZI CAMP MOTHERFUCKER!!! I CAN KILL YOU WITH MY BARE HANDS!!!"... I don't actually know the specifics... every time my father - a bona fide war-history buff and card-carrying Civil War re creationist - tries to tell me, he falls into some never ending tangent about something loosely connected to the war, but ultimately related to the Civil War... then I say I have to go to the bathroom BUT TOTALLY DON'T... I just fucking leave and go watch TV or something. I'm such an asshole.
What makes me more of an asshole? On the 11th minute of the 11th hour of the 11th day of the 11th month of this year, I was not having a moment of silence. No No. I was watching Whoopi Goldberg confront Laura Ingraham about free speech on "The View". Well, I was being silent. So I guess that counts.
And I'm sure I listened to the song "Boogie Woogie Bugle Boy" at some point during the day, and I certainly know all the words to it, so there's that. OH! And just last week a bunch of us watched "A League Of Their Own" for the zillionth time... which is a wartime movie, so that counts as commemoration, too!
We decided several things while watching this: A.) We're going to adapt "A League Of Their Own" for the Broadway stage, B.) We're going to approach Kylie Minogue about writing the score/using her existing songbook and re-writing the lyrics and C.) Cast it using our friends...
Here's how the cards fell: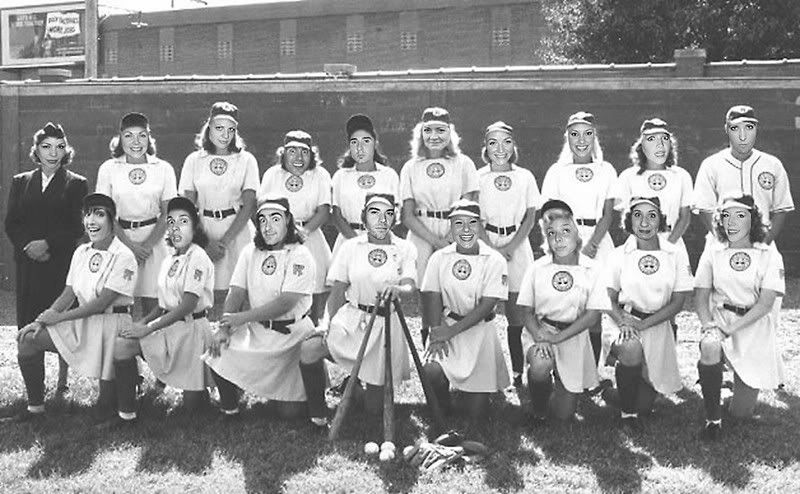 As team Chaperone Miss Cuthbert, Gail...
As 2nd basewoman Vivian Ernst, Kirsten...
As outfielder 'Mumbles' Brockman, Sheanna...
As pug-faced powerhouse hitter Marla Hooch, Kyte...
As heartbroken widow Betty "Spaghetti" Horn, Anth...
As 'Queen of Diamonds' Dottie Hinson and spotlight-stealing kid sister Kit Kellar, real-life sisters Meaghan and Heidi Brander!...
As beauty-queen turned shorstop Ellen-Sue Gotlander, Nicole Arbour...
As 1st basewoman/coffee-maker extraordinaire Helen Hayley, Muff...
As hardened team captain and has-been baseball legend Jimmy Dugan, Lariss...
As outfielder Connie Calhoun, Dini Dimakos...
As former dime-a-dancer "All The Way" Mae Mordabito, ME...
As surly 3rd basewoman Doris Murphy, Yerxa...
As Saskatchewanese centrefielder Alice "Skeeter" Gaspers, Deano...
As outfielder Neezer Dalton, Marianne...
As rightfielder and Stillwell's mother Evelyn Gardner, April Wozniak...
As shortstop Marbleann "Beans" Babbit, Andrea Caswell...
AND
As recovering illiterate Shirley Baker, Katherine "Kitty" Ryan...
Phew. That took a lot out of me.
Also... LESS THAN 1 WEEK AWAY!!!!!!!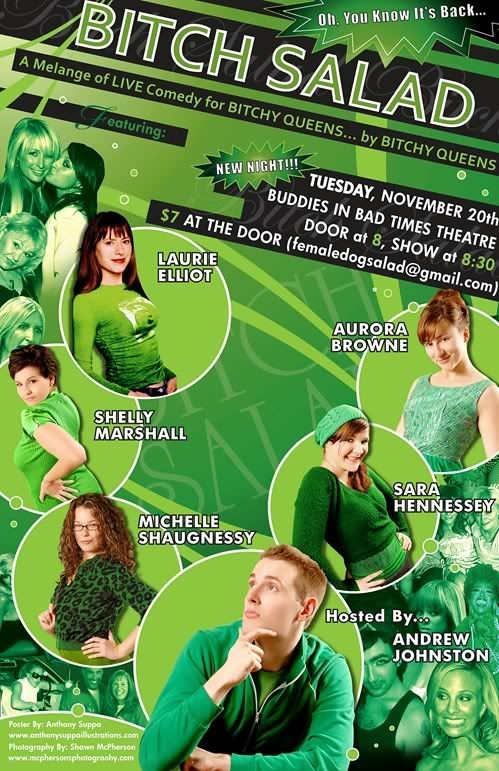 It's gonna be huge. Look for an interview I did with Paul Bellini in tomorrow's Fab magazine!!!
--- Aj