Yeah yeah yeah, I missed recapping the 'shocking upset' on American Idol... I was busy! Suck it!
Yesterday was maddening. MADDENING. I'm going to try and describe this situation as diplomatically as per possible: currently, the company that I work for is working on a project with another company, and the bitch in charge of manning operations for this other company is driving me MENTAL. She calls me about EVERYTHING. Assuming that I a.) know the answer and b.) give a remote fuck in hell about what she's talking about - I DON'T. I guess it's sort of my fault... in the beginning, I was being very helpful and very available - which is such a mistake. Whenever you make yourself overly available in any sort of relationship, it's so hard to redefine that dynamic later on. Well, in most cases. My current strategy is just to completely withdraw myself and act like a total bitch, but it doesn't seem to be working. This is a actual conversation that took place yesterday:
Her: "Andrew! I didn't get a receipt for my cab!" (A cab that she literally took from King & Yonge to King & University... yeah... 4 fucking blocks... it wouldn't have been more than 5 bucks...)
Me: "Oh. Well, you know whose problem that is?"
Her: [stares at me as if I'm actually going to give her someone to contact about this...]
Me: "... NOT MINE!"
Sheesh. Whatevs... so yeah... yesterday was just caught up in a lot of bureaucratic hussmuss that made me want to wretch, and I'm so, so, so sorry about neglecting this here blog and that there American Idol finale. Sooo... better late than never...
Idol Finale. Thoughts:
First off... a little red carpet re-cap...
- Paula Abdul continues to tumble towards looking like present-day Chita Rivera...
- What a coincidence! Number 9 and number 5 on my list of all-time Plus-Sized Sistahs, Cammy Manheim and Marissy JW respectively, rockin' the red carpet...
- And, prepare yourself for this onset of dream-boat winners... Holy fuck... there's so much failure comin' at ya here, you'll be recoilled in the fetal position by the time it's done...
You can't stop the beat...
There's more...
Wowza. Those 9 should start some sort of cougar-specific all-male burlesque revue or production of The Pirates of Penzance or something... I can't believe all that washed-up boy beav was congregated together in one place at one time...
Anyway... pressing on to the actual
show
...
- 90-something million votes. Good grief. That's a lot of cell phone minutes, losers.
- Do you know who I love? Like, LOVE?
Mikalah Gordon
. Despite the fact that her voice sounds like a robot quiffing, I fucking loved her in Season 4... so happy to see her back, even if it is in remote-hometown-correspondent capacity.
-
D'Cook
sounded good on Chad Kroeger's "Hero" - I imagine this is the kind of fare we can expect from him in the immediate future.
D'Archuleta
, however, looked like a Make A Wish kid having a Make A Wish moment next to him during this.
- Guess what I won't be seeing:
Mike Myers
in "The Love Guru".
- My my my that
YeYe Mercado
seems to be confidant. She's certainly sporting this air of entitlement all evening as if to say "I made third place because of m'talent 'n ch'risma, y'all. How the hell else would I be singin' with Seal Klum?" No, honey. You made third place because of voter displacement and a timely peak in ability. So you just go ahead and wipe that damned smirk off yo face...
- You know what might not have been the proudest moment of my life if I were one of the gals in this year's Top 12? Being a glorified backup singer for
Donna Summer
as she debuted her new single, "Stamp Your Feet". Well, actually that'd be pretty awesome for
me
, as I'm a great big fat fag who loved me some Donna Summer since I was 8 years old, but I can't imagine it was very dignified moment for
them
.
- It occurs to me more and more with each passing second how much I'm going to miss
Amanda Overmyer
. Here's an idea for you, Fox Reality Channel: give Amanda her own show where she's put into situations that she doesn't want to be in... because she's just about the most amusing person to watch
not be into
doing something...
- It's official:
Michael Johns
and
Carly Smithson
were outrageously good. Also official:
Brooke White
was outrageously bad. What were people thinking?!
- A
Bryan Adams
cameo?! Holy crow, they really went all out for this...
- I spoke too soon... David Cook gets to duet with
ZZ Top
?!?! TALK ABOUT STAR POWER!!!
- Again, the
Jonas Brothers
. Apparently they're big with the kids. Is anyone else deeply, deeply unsettled by their appearance?! They dress like Mr. Howell from
Gilligan's Island
with this emo twist and I just get the most reverberating feeling that there's incest afoot... but maybe that's just me...
- An Idol finale wouldn't be an Idol finale without Idol alumnus pushing their next single down our throat - this time around, we're treated to two: perennial Idol darling
Carrie Underwood
and her sassy new hit, "Last Name" - a song about meeting a guy in a bar, making out with him and not even knowing his last name... what a shocker! Maybe she can do a remix of it for the gay clubs called "First Name" - about meeting a guy in a bar, sleeping with him and not knowing his first name, last name or race, because I'mma tell ya, that'd be a considerably more relatable scenario in my 'circle'... And of course,
Jordin Sparks
... who, still rockin' her linebacker build, decided to dawn a gold lame baby doll dress - a move that I can only assume was made to intentionally draw similarities between her and a drag queen... specifically: Toronto's own
Sofonda Cox
...
- I guess if there was one, the comedic highlight of the night came with that CGI-d retelling of
Gladys Knight
& The Pips performing "Midnight Train to Geo'gia" with
Ben Stiller
,
Jack Black
and
Robert Downey, Jr.
subbing in for the original Pips. Who decided that Robert Downey, Jr. was going to become relevant of a sudden? Like, when and why did this happen?
- The
George Michael
medley. Hmmm. Best part of this: during the boys' group warbling of "Father Figure", Stripper for a mostly male audience-cum-Idol finalist
David Hernandez
was given the following lyric: "For just one moment, to be bold and naked, at your side". And he cheekily whispered "naked". Yay. He's in on the joke.
- Speaking of George Michael, the cold that was ailing him must have been severe, because he sounded 0.0 percent like himself. Whatever - Paula was certainly reduced to tears. Presumably because she was silently reminiscing about the good old days of having coke fueled orgies after the 1989 MTV VMA's...
- Then of course, came the shocker:
D'Cook
takes the cake. Well, who fuckin' saw that one comin' - not me. I was actually shocked. Actually amazed that D'Archuleta didn't sufficiently pluck at people's heartstrings and voting fingers. That D'Cook has some mighty fervent fans... maybe they'll make good by him... Anyballs... That just about concludes that...
Oh yeah,
TUESDAY!!!!!!!!!!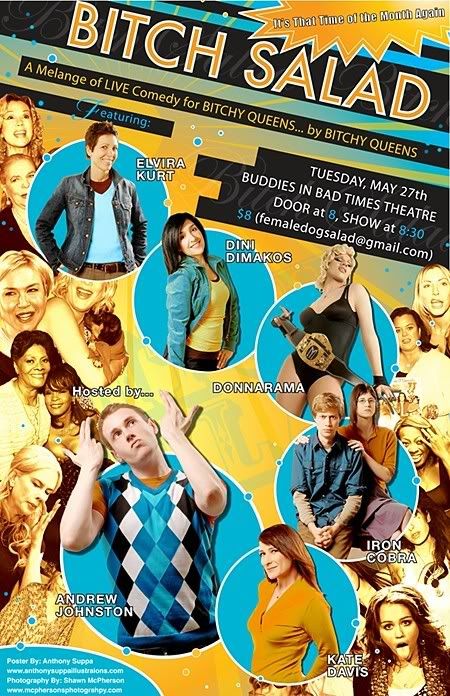 AHHHHH!!!!! Can you not wait?!
I'm posting the mix tomorrow...
--- Aj