One great big Monday howdy'do to y' and y'rs...
How was your weekend? Great? Good? Good but not great? The former would describe mine... Friday night I did absolutely 0.0 things in anticipation for a photo shoot for Now Magazine that I had to do Saturday morning... So I laid depth-defyingly low Friday night out of fear that I'd come to set with enormous circles under my eyes or worse, sleep in past it only to arrive three hours late, have them pissed at me and intentionally photograph me looking heinous a-la Carrie Bradshaw in that episode of S&TC when she's on the cover of the magazine that was originally supposed to be under the headline "Single & Fabulous
!
" but was instead changed to "Single & Fabulous
?
"... yeah... my greatest fear... can you tell I'm counting down the days until I can get Carried away?
Anyballs... Saturday was more of the same... following the shoot, Trevor Boris, Dana Alexander and m'self went for some brunch - Dana and I drank [obviously], Trevor didn't... then the gaggle of us went and hung some posters for the next Bitch Salad... WHICH, by the way, HAPPENS TWO WEEKS TOMORROW!!! AHHHHH!!!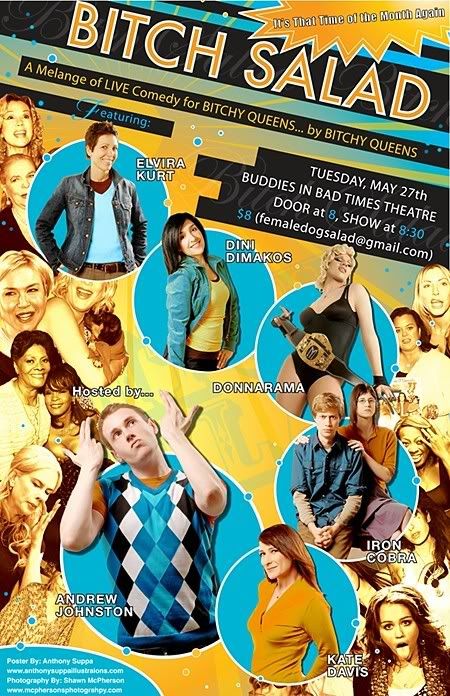 Following that, I had the tastiest nap in the world to the sights and sounds of one "Corrina, Corrina" in the background - thank God for Peachtree TV is all I'm sayin'... and for that movie... I loves me a light-hearted story about interracial love in the 1950's starring a pre-
The View
Whoopi Goldberg
and a pre-
Napoleon Dynamite
Tina Majorino
- then went out a'trawlin' for boy beav, which - by the by - seems to be in severe shortage right now... much like rice in China and Bangladesh... methinks it might need to rationed as well in the near future... anyballs - none of this important.
Shia LaBeouf
hosted SNL again... it kind of sucked... except for this sketch spoofing that all-time greatest game show that
NEEDS NEEDS NEEDS
to make a comeback, "Match Game":
Oh land's sakes that's entertaining. I don't know if you watched Match Game - you probably didn't - but I used to watch re-runs of it on the Game Show Network as a kid and I fucking loved it... they'd always be smoking and drinking at the table without chagrin and the answer for EVERYTHING was either "Making Whoopee" OR something to do with the resident titmeat's "buzooms". AMAZING.
In other TV-related news...
Do you know what show I'm obsessed with? Like OBSESSED with? "Celebrity Rehab" with Dr. Drew... It's exactly what it sounds like it is... it's like a cross betwixt A&E's
Intervention
and
The Surreal Life
... the "celebrities" involved include but are not limited to:
Daniel Baldwin
(the least successful Baldwin), Porn star
Mary Carey
(who was on the receiving end of a lawsuit c/o Mariah Carey), former wrestler and celebreality show fixture
Joanie
"Chyna Doll"
Lauer
, Seth
"Shifty Shellshock"
or something from that band Crazy Town, American Idol also-ran/super-skank
Jessica Sierra
(who's probably the most likable/promising one of the show... and that's saying a lot),
Jaimee Foxworth
(Judy, the forgotten Winslowe from Family Matters who later turned to a life of porn starring in movies named shit like "Booty Patrol"), the continued love of my life Brigitte Nielsen and the hottest mess in the history of hot messes
Jeff
"Kenickie"
Conaway
(pictured)...
It's a VH1 series that's airing second-hand on MuchMoreMusic here in Canada and it is a trip and a half. They're currently in the process of detoxing and some people are taking to it better than others... last night Jeff Conaway was just sitting there shaking and screaming like a loon and barfing... and I guess the whole game plan is that they're all supposed to look after each other, so as soon as he starts barfing the nurse asks "Okay, who's not afraid of barfing?" and Mary Carey leaps to her feet to help him barf... it's nuts. It's actually out of control how fucked up all these people are and I can't stop watching it. I'm afraid it's ruined future celebreality for me... I'll never be able to find "The Surreal Life" amusing because the bar has been set so high by "Celebrity Rehab"... kinda like how "The Swan" ruined any makeover/transformation show for me...
In other, other news...
The trailer for the impending Anna Nicole Smith biopic is up and running... To the surprise of no one, it looks terrible...
I don't really know what anyone was expecting? Like, did you think this was going to be on par with
Elizabeth: The Golden Age
or something? Sheesh.
In other, other, other news...

Tonight. 8 PM. Season 2 of the newly reinvented American Gladiators bows. Mysteriously (and troublingly) absent from the promos? One Robin Coleman A-K-A HeLLga.
I should hope that this is a glaring, GLARING oversight on the promotional producers behalf. Because so help me God, if HeLLga's out - and I couldn't fathom why she would be - SO AM I, MOTHERFUCKERS.
Methinks that's going to be it for me today...
OH - trivia: did you know that I almost got botox on Thursday? Yeah... I was invited to this industry thing where they were giving out free treatments... sadly, I had a gig, otherwise, I'd be lookin' like Nicole Kidman up in here...
Anyballs,
--- Aj