Hiya friends, friends of friends, and the rest of you...
Absolute first things first:
TONIGHT!!! TONIGHT!!! TONIGHT!!! TONIGHT!!! TONIGHT!!! TONIGHT!!! TONIGHT!!!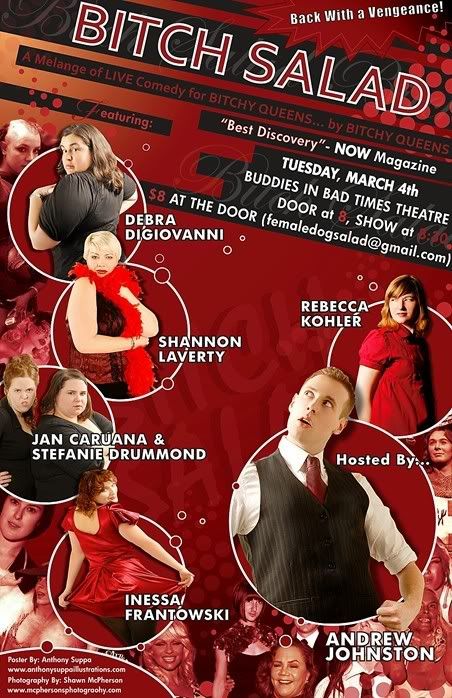 That's right - the next installment of Bitch Salad fucking happens TONIGHT!!!
It's going to be so incredible... for real, this lineup is the things that dreams are made of. Like are you a Jihadist terrorist? This is going to be so much more magnificent, so much more fantastical than Harem that it's just gonna fuck your cause right up. It will discombobulate you and you will love it...
Featuring:
DEBRA DiGIOVANNI
!!! If you haven't seen her live - you must. A master fucking class in comedy, let me tell ya.
SHANNON LAVERTY
!!! Same thing goes for Shannon - she does shit on stage that I could never hope to do. She's been working coast to coast and burg to berg for a coon's age, but in a pre-Sex & The City world, was constantly told that she was 'too dirty' and "people don't want to see a woman on stage talking about that stuff". She's just absolutely incredible.
JAN CARUANA & STEFANIE DRUMMOND
!!! Again, the same notion applies to Jan Caruana - if you've seen her improvise, you know that her powers are frightening. Holy fuck. And Stefanie Drummond has an inherent comedic genius that people would trade body parts for - talents that on full display, of course, in the film "Mean Girls"... I am SO excited for this...
REBECCA KOHLER
!!! Another fucking fantastic, acerbic, contemporary female comic that I had the pleasure of working with when I spent that little stint in LA at the end of last year -
INESSA FRANTOWSKI
!!! Part of the Sketchersons and mainstay of "Sunday Night Live", I love this woman. The highlight for me of any Sunday Night Live is Inessa's costume changes. For real. She is so particularly attired every time she comes on stage and as Oprah says, love is in the details. Couldn't be more true.
And of course, the entire evening is hosted by me. I don't think I need to blurb myself. Blurb myself. That sounds dirty. I think I'll blurb myself after the show tonight. Maybe even blurb myself to sleep. Yeah. That sounds nice.
So that's that. COME!
In other news:
BITCH I LOVED THIS WEEKTHIS CHICKWho
: Good question. I have no idea who she is or where she's from. The only thing I do know is that on July 8th, 1993, she beat the unholy shit out of her no-good boyfriend and someone had the presence of mind to whip out their camcorder.
Why I Love Her
: Yeah. This woman is EASILY the hottest bitch alive. High points of that video: When she drags him down the street on all fours with his shirt over his head and spectators yell "Walkin' the dawg!" and of course, when a little kid runs up to her and she says "Please do not show me dat at dis point in time". AMAZING.
BITCH I HATED THIS WEEKLAUREN CLERI
Who
: Ghastly whore who went on "Moment of Truth" (that show where people hook themselves up to a lie detector and answer crazily personal questions and jeopardize their relationships in hopes of winning some cash) and admitted to cheating on her husband. For admitting that, she won $100,000. The next question was "do you think you are a good person?". She answered 'yes'. According to the lie detector, bitch was lying. HA! She lost all the money... Since then she's done a slew of interviews and has admitted that she's surprised she's not rolling in acting offers.
Why I Hate Her
: It's actually not the fact that she sold out her relationship and ruined her (now ex-)husband's life for blind financial opportunity that bothers me. It's the fact that that potato-headed bitch thought this would catapult her into a career in the entertainment industry. Barf.
K.
That's it for today.
I am so exhausted.
I'll be fresh as a daisy tonight, though.
COME TO BITCH SALAD!!! 8 PM TONIGHT!!! BUDDIES IN BAD TIMES - 12 ALEXANDER ST.!!! 8 FUCKING DOLLARS!!!
If you don't, you're a more horrible person than Lauren Cleri.
Unless you actually
ARE
Lauren Cleri and beyond the fact that you cheated on your husband and humiliated him and yourself on national television, you're also not planning on coming to Bitch Salad... well... may God have mercy on your soul...
--- Aj