Hey y'all.
First things first
: I ended up being 3/4 last night with m'Idol picks. Joanne Borgella, Garret Haley and, in the first MAJOR upset of the season (not really) Amy Davis were sent packing, as I predicted. Also going, Colton Berry. *sigh*. I guess I could have predicted that, but I was too busy swooning over the youngster. Oh well. I thought Simon was pretty harsh on him, though... advising him to go get a job and sing for fun. There are tonnes of homos in musical theatre who are substantially less competent than him making a quaint living in dinner theatre and the like. B'aaanyway. I did make notice of how very jarring Danny Noriega's reaction to Colton leaving was... as if to say "NOOO!!! There goes my buttboy!!!" Another cut, another gay tweenage romance dashed. *cue Janet Jackson's "
That's The Way Love Goes
"*
Second things second
: Y'all... it's been a while since I've done a good countdown. And since it's Friday, a day
made
for countdowns, I've decided to let the good times roll. This is one I've had in the cooker for a while now.
So I'll just cut to the chase... remember
Here are
The Top 10 Sister/Daughter/Ingenues of Classic Sitcoms Who Have Done Little-to-Nothing With Their Career As An Actress Since!!!
10.)
DANICA McKELLAR as "WINNIE COOPER" on THE WONDER YEARS
Who She Was
: As the most irksome ingenue to ever grace an 80's/90's sitcom, Danica's Winnie played love interest and foil to Fred Savage's Kevin from 1988-1993. Of note: bitch totally left him with blue balls. As it turns out, she ups and offs to Paris to study art where they write each other a letter a week for 8 years until her return. They never married.
Who She Is Lately
: Danica hasn't exactly been rollin' in scripts since her stint on
The Wonder Years
. In fact, if you were to make a narrated dramedy about
her
life lately, it might be called
The Blunder Years
. See how I did that!? See!? See!? Yes. Anyballs... it's been sporatic guest appearances here and there, mainly on fleeting sitcoms that no one could remember for their life. It seem her biggest coo was starring in a Lifetime miniseries called
Inspector Mom
(sounds AMAZING) and doing a sexy, math-themed pictorial for Stuff Magazine. Why math-themed? Because, apparently, she's a math whiz. Something she parlayed into a book entitled "Math Doesn't Suck", pictured above. Who the fuck knew?
Editor's Sidebar
: Gah. I could never stand Winnie Cooper. The way she naggingly said "Kevin" drove me nuts - but she's far too prominent in this category for me to exclude, so I'll suck it up.
9.)
LECY GORANSON as "BECKY CONNER-HEALEY" on ROSEANNE
Who She Was
: Roseanne and Dan Connor's eldest daughter, Becky. Originally a promising, Straight-A student all hell broke loose when she met and fell head over heels for bad boy, Mark Healey. Classic story... the ran away, eloped, lived out of state, it caused a huge rift for the family that everyone eventually grew to accept. In real life, Lecy Goranson was pretty difficult. At the top of the 5th season, Lecy exited the show to attend Vassar College, and an agreement was reached to use her sparingly - mostly in scenes where she would phone in that would be shot out of state... the same thing they did in the final Suzanne Somers years on
Three's Company
. Anyballs... at some point they decided to do away with this idea, Sarah Chalke (Elliot from
Scrubs
) was brought in to replace her, then Lecy decided she wanted to come back, so she did, then left again, then came back again, then left AGAIN and holy fuck. MAKE UP YOUR MIND!
Who She Is Lately
: It seems that people haven't been as
accomodating
to the Lec-sters schedule in recent years, to say the least. Besides playing the odd trailer park-fare (the doomed "Candace" in
Boys Don't Cry
and one half of the couple that plays Indian giver with their unborn child to Charlotte & Harry in the final episode of
Sex & The City
) now-Alicia Goranson isn't exactly burnin' up the celluloid these days.
Editor's Sidebar
: When I was a kid - say, Grade 4 or 5 - me and a few schoolyard chums had this game we played on the teacher on duty at recess. We'd run up and 'tattle' on various obscure child-stars of the moment and this would royally fuck them up. I can specifically remember going up to one - Mrs. Anderson - and saying "Mrs. Anderson! Lecy Goranson's throwing stones at me!" and she just looked at me like "Ummm, okay. I'll... I'll... go and, um, speak with her... Yes..." FUN!
8.)
GABRIELLE CARTERIS as "ANDREA ZUCKERMAN" on BEVERLY HILLS, 90210
Who She Was
: Much like the fact that although Estelle Getty played the oldest
Golden Girl
, she was in fact, the youngest cast member - the fact that Gabrielle Carteris was the oldest cast member (clocking in at a heavy 29 years old) to play a high-school student remains one of the most oft-relayed pieces of trivia in television history. Gabby C got her start with bit parts in after-school specials and hit the fucking jackpot when she landed the role of studious school-newspaper editrix, Andrea Zuckerman. As the brainy bookworm who stayed home from prom and had unrequited crushes on everyone, she was certainly one of a kind in the sexy teenage smoulder-fest that was 90210. By the fifth (and her fina) season, she got pregnant with Jesse Vasquez's baby, moved to Conneticut to study pre-med and was never seen again.
Who She Is Lately
: Gabrielle hoped she could parlay her time as Andrea Zuckerman into other projects. Hope springs eternal, Gabby C. Immediately after her stint in 90210, she launched a tabloid-talk show called "Gabrielle". It lasted one season. Besides a very, very puny smattering of 1-off's on hour-long, usually female-oriented dramas, her biggest claim to fame of late was 'starring' in the first season of
The Surreal Life
. Apparently she voices a lot of video games now. Hmmm.
7.)
DANIELLE FISHEL as "TOPANGA LAWRENCE-MATTHEWS" on BOY MEETS WORLD
Who She Was
: Originally intended as a minor recurring character on
Boy Meets World
, brainy, opinionated Topanga was thrust into lead role in its second season as love interest and foil to Ben "Cory Matthews" Savage. Ever the modern gal, Topanga proposed to Cory at their graduation and off to college they went.
Who She Is Lately
: While her career as an actress really hasn't consisted of anything more than a few direct-to-DVD National Lampoon College movies, her personal life has been rather interesting. She dated a pre-gay Lance Bass; she was on the Tyra Banks Show discussing her dramatic weight loss and Nutrisystem; and of course last year was busted on DUI. That's probably the most exciting news we've heard all countdown s'far.
6.)
JODI SWEETIN as "STEFANIE TANNER" on FULL HOUSE
Who She Was
: Adorable, raggamuffin middle-child to the Tanner family from 1987-1995... so from the ages of 5 to 13... so the boob-growin' and period-gettin' ages...
Who She Is Lately
: My my my my my. If Jodi could say two words to her fate, they would certainly be her Full House catchphrase - "How Rude!". You can count her 1-off guest spots on various shitty sitcoms on one-hand (and specifically, three fingers). Her current 'gig' seems to be as host of a show called "Pants-Off Dance-Off" which what I assume is a
So You Think You Can Dance?
for strippers. Personal-life-wise: I think everyone in the world did a double-take to learn that she was a huge meth-head back in 2006. Anyway, with the help of the Promises rehab centre in Malibu, she kicked the meth and now speaks out about that experience. She's also pregnant. Very, very pregnant.
5.)
TINA YOTHERS as "JENNIFER KEATON" on FAMILY TIES
Who She Was
: Ohhh. The Big Yuth. Who could forget her as standout baby Jennifer on Family Ties. Such a role model was she, that she penned an instructional guide for weathering the seas of female adolescence entitled "Being Your Best: Tina Yothers Guide For Girls". I know
I
sweared by it - who's with me?!
Who She Is Lately
: Well, following
The 'Matters
, it was apparent that The Yoth had a bit of a dark side. She died her hair black - black as night - and formed a band called Jaded. Her subsequent body of work is stunning: playing Tonya Harding in the short, "Spunk: The Tonya Harding Story"... and that. is. it. As herself, she competed in the fourth season of
Celebrity Fit Club
and lost a whopping 42 lbs! She's now married to an electrician and has 4 kids ...
Sha-la-la-la
.
4.)
TRACEY GOLD as "CAROL SEAVER" on GROWING PAINS
Who She Was
: Originally cast as the youngest kid on the Nell Carter vehicle
Gimme A Break
, plucky, teenage everywoman Tracey Gold crept into our hearts and our homes as middle-child Carol of the Seaver clan - famously headed by Alan Thicke and Joanna Kearns.
Who She Is Lately
: Well, it all started mid-series run on
The 'Pains
. Tracey's character Carol was to be the brunt on countless fat jokes administered by her TV-brothers. That's how Tracey Gold plummetted to around 80 pounds and became one of the first 'out' anorexic celebrities ever. After becoming the original [surviving] poster-girl for Anorexics in Hollywood, she went on to star in a slew of Lifetime TV Movies - most notably, "For The Love Of Nancy"... starring Gold in the title role as a teen struggling with anorexia. I remember there was this class back in Grade 10 called simply "Foods". It was kind of like Home Ec only strictly about Food. Nutrition, baking, that sort of shit. You know how teachers kill time by showing movies that are looooosely relevant to whatever topic they're covering at the time? This is how we covered eating disordes - by watching that assfucking movie. No. Paron me. It was two movies - "For The Love Of Nancy" AND "What's Eating Gilbert Grape"... because there was an obese chick in it... yeah... ... ... Annnnnyballs - Tracey's now a recovered anorexic with 4 kids (guess the 'rex didn't ravage her insides as per projected) and her most recent claim to fame is a DUI she was busted on back in '06.
3.)
ELIZABETH BERKELEY as "JESSIE SPANO" on SAVED BY THE BELL
Who She Was
: She was so excited! She was so excited! She was so... ... ...
scared
. Thaaaat's right, everyone's favourite liberal-minded, smart-as-a-whip, overachieving, recovering-caffeine-pill-adict class president of Bayside High!!!
Who She's Been Lately
: Well, everyone knows what happened to Elizabeth Berkley. Immediately - and I mean immdiately - after Saved By The Bell wrapped, Zibby B signed on to make her feature film debut in a promising little romp entitled "Showgirls". Saved By The Bell? More like Doomed By The Pole! HE
EE
EY! To this day, Elizabeth Berkeley's decision to do
Showgirls
stands as one of the all-time gruesome career suicides in the history of Hollywood. She's had some reasonably favoured roles here and there, but nothing has come near eclipsing the epic shitstorm that is
Showgirls
.
2.)
JAIMEE FOXWORTH as "JUDY WINSLOW" on FAMILY MATTERS
Who She Was
: No one know for certain. Well, no. Judy was the youngest of the Winslow children. Don't remember her? Well, blink and you would have missed her. Although she was around for three seasons, her role diminished episode by episode until one day - poof! There she
wasn't
. Never given an explanation, never made reference to again... she truly is the
forgotten
Winslowe...
Who She Is Lately
: Well, on this countdown, we've seen a lot of things. We've seen child stars-turned-meth addicts. Child stars-turned-anorexics. Child stars-turned-well... Tina Yothers. What we haven't seen is child stars-turned-porn stars... until now. And not only did Miss Jaimee Foxworth do porn, but it was really super-skanky ghetto porn called shit like "Booty Talk 20: Super Fine Sistas!" and "Sugarwalls 29" (above are some screenshots, with naughty bits obscured by Harriette Winslow making the exact look I'd have to imagine her making upon finding out that Judy was doing porn)... anyway, apparently she's since stopped. She's done the whole Oprah, Tyra circuit and apparently mentored other young girls in an effort to to tread the same path... whoops, spoke too soon. She's currently on Dr. Drew's "Celebrity Rehab". Ohhh well...
But
There
Can
Only
Be
1.)
LANI BILLARD as "ELIZABETH 'BUSY' MARIA TERESA CARLITA RAMONE" on READY OR NOT
Who She Was
: Seminal, iconic character to an entire of generation of Canadian (and some cable-watching American) youth who plowed her way through the bumps and turns of adolescence, not always succeeding, not always failing, but always with class. IT'S BUSY, Y'ALL!!! The original fumbling, androngynous, potentially lesbo teenage heroine! What's not to LOVE?!
Who She Is Lately
: Well, acting didn't exactly pan out for the Lon-ster. Powers that be in casting could never get over her iconic turn as Busy - and really, who could blame them? And there's precious little info about her whereabouts beyond that... that is, until a visit to
her open facebook page
! As it tuns out, she's now A.) an out-and-proud lesbo, currently in a relationship no less and B.) a reiki practitionner. And not just for humans, for animals as well!
Still not clear: What
exactly
will her mother say?
Questions...
Questions...
In other news:
10 DAYS AWAY!!!!! AHHHHHHHH!!! CAN YOU EVEN HANDLE IT?!?!?!?!?!?!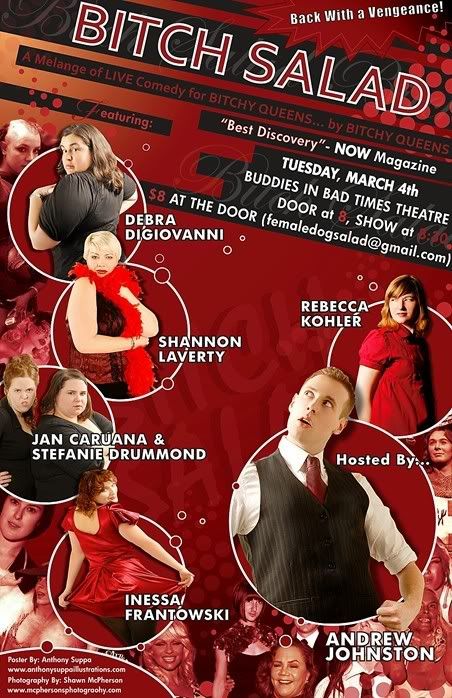 Because I totally can't.
Have a good weekend,
--- Aj