Hey there friends... and friends of friends... and friends of friends of friends... and the odd smattering of enemies, I'm sure...
First things first - HAPPY 2008!!! May it be hale, hearty, and heady.
How the balls was everyone's New Years? I trust it ranged from bad to just a hair-above uneventful, as New Years Even so often is. Mine was quite awesome, actually... I hosted the festivities at Toronto's hipster hotbed, The Drake Hotel - a gig that I was all too happy to land.
The deal was: I was to go on, do some time off the top, introduce some acts then do the countdown. Yeah... the partygoers (save for one eccentric older gal in a 2008 tiara) couldn't have cared less that there was a show going on... I was just sort of talking to myself for 10 minutes before introducing the jazz band that provided the sound scape for the boogalooing and hobnobbing that was the night.
The other acts on the bill were a contortionist named
Aidan Orange
(he was on Letterman where he befriended Natalie Portman. He was then in
Mr. Magorium's Magic Emporium
with her. They're basically besties.) and a burlesque queen named
Mina LaFleur
(looks EXACTLY like Dita Von Teese, so much so that everyone thought it was her, and were thusly, exponentially more excited about her... that and she's got a hell of a rack)... here's me looking exceptionally dapper with both them...
So I basically hung out with them, drank and grilled Aidan about whether or not he could give himself head - which I assumed he could, but apparently no dice: he's strictly a 'from the waist up' contortionist. I'd have to imagine that your productivity of comin' up with new tricks kind of halts if and when you discover that you can do that. But I digress... SO YOU KNOW WHAT'S FUCKING AWESOME?!?! Doing the countdown! I had NO idea how much fun that would be, but sister, it fucking IS! In a word: Jubilee. It's like you're delivering the new year to the crowd. Like without you, it won't happen. Like, if I stopped at "3", 2008 would not be upon us until I decided to say "2... 1... HAPPY NEW YEAR!" It was just awesome.
So yeah - after that I high-tailed it to Buddies and rang in the first few hours of the new year in the only fashion it should be: debaucherously.
In fact, I just finished recovering from it today which is why this god damned blog took so god damned long to put up! No. My work situation has become increasingly difficult and completely retarded me from doing this post all week - because it's a hum-dinger, let me tell ya.
Seeing as my first post of 2007 was recounting my Top 20 pictures from my blog throughout 2006, I don't see why this one should be any different.
So now, I present to you,
MY TOP 20 PICTURES FROM MY BLOG IN 2007
!!!
20.)
LOCAL CAKE DEPRECIATOR ANDREW JOHNSTON
The very first picture of
the very first blog
of 2007, as a matter of fact... I recounted my holidays, and a sufficient highlight of them was the fact that my momz gave me one of my very most favourite treats - Le Petit Fours, or, TINY CAKES! OH MY CHRIST I LOVE THEM SO MUCH!!! Anyballs... upon receiving them, I decided to re-enact "the most controversial shoot on America's Next Top Model ever" (according to Herr Tyra Banks, at the time) where the girls were portraying model stereotypes and Michelle (the awkward, lesbian twin from cycle 7) was designated 'bulimic'. Anyway... the picture pretty much tells the rest of the story... I full-blown meant to get my picture taken with this X-Mas's Petit Fours, but full-blown fucking ate them in one sitting BECAUSE THEY'RE
THAT
DELICIOUS!!!
19.)
DREAMBOYS
From
this blog
in tribute to the movie "Dreamgirls" where I counted down my Top 10 favourite all-girl trios of all-time. A good read if I say so myself... The Del Rubio Triplets deservedly came in at Number 1. Sorry to spoil it for ya. Pictured: Yerxa as 'Effie' (natch), Me as 'Deena' (NATCH) and Aaron Kyte as 'Lorrell'. Then the bitch left for the year to do various regional musical theatre endeavours... so he was OUT of the Dreamboys - awkwardly out of sync with the movie as it's Effie who's ousted, not in fact Lorrell. Anyway... Aaron was replaced with Anth and everyone lived happily ever after. We now see Aaron on holidays and funerals.
18.)
'DOWN FOR THE COUNT' AND OTHER SEXY COSTUME IDEAS...
From
this blog
detailing a lion's share of SEXY Hallow e'en costume ideas - ranging from "Sexy Robin Hood" to "Sexy Cab Driver" to "Sexy Convict" and of course the pictured "Sexy Bunch Of Grapes" and "Sexy House" - it roaringly culminated with the ever-tasteful "Down For The Count" costume, pictured centre. Any dude who ever bought that might as well have dressed up as a gigantic douche bag/John Mayer.
17.)
SCENES FROM A WAKE FOR ANNA NICOLE SMITH
From
this blog
documenting the impromptu wake that a gaggle of us had for Anna Nicole Smith upon her untimely (or, perhaps very timely) death this past spring. We ate, we drank, we wore black, we watched Season's 1 and 2 of her unbelievably brilliant reality show and lamented the loss of our generation's intoxicated, adult-themed version of Bozo The Clown. AND we plan on doing it all over again this year at an event entitled simply "AnnaVersary".
16.)
SOLID. GOLD.
From
this blog
following a night well-spent catching the season premiere of SNL (an episode that has turned out to be 1 of a paltry 3 this season due to the writer's strike) and then running wild at the Scotia Bank-sponsored bizarre, nocturnal, city-wide festival "Nuit Blanche". On said episode of SNL there was a sketch about a "Greatest Moments of Solid Gold" that we easily fell in love with and reenacted the rest of the livelong night - replete with jazz-walks across cross-walks and telling anyone who would listen that we were "5'6 and 108 lbs" and that we enjoyed "white jeans and bus rides". This was the resulting photoshopping. That's me as Darcel.
Palette Cleanser Part 1:
SISTER ACT, DANA ALEXANDER STYLEZ
From
this blog
marking the exact moment I got the photoshop program that I use - Microsoft Digital Image Suite 2006, incidentally. Not Adobe. I KNOW! WHOA. This picture of Dana Alexander A-K-A Delores Van Cartier A-K-A Sister Mary Clarence, and is basically the catalyst for every head/face transplant of one my friends that I've done since. Thanks, girl.
15.)
AJ DOES HOLLYWOODLAND
From
this blog
logging my exploits in the city of Angels and the wood of Holly. On the left: me in front of the Hollywood sign (so you
KNOW
I've made it!!!!) atop the Griffith Park Observatory - literally, ATOP. I almost fell off... I was like "Mitch! Take m'picture! NOW!" On the right: me upon discovering that American liquor is much, much, MUCH, much cheaper than its Ontarian counterpart. MUCH. As in 40 mothafuckin' dollaz, y'all.
14.)
BEST. OSCAR PARTY OUTFIT. EVER!!!

From
this blog
offering a blow by blow of our Oscar Party a year ago. A joyous night indeed.
Jennifer Hudson winning
. Ellen finally getting her shot.
Jennifer Hudson winning
. The Dreamgirls medley.
Jennifer Hudson winn
- yeah you get the jist. Highlight of the night, however: LARISSA MOTHERFUCKING LAYCOCK'S COSTUME. We all dress up for Oscar parties and Larissa outdid herself the way no one has every outdone themselves with her turn as Meryl Streep's "Miranda Priestly" from
The Devil Wears Prada
. What you don't see is the full black fur she was also wearing. We BEGGED her to do it again this Hallowe'en, but no. Ah well. At least a privileged few got to see it.
13.)
DONNA SUMMER & RONALD MCDONALD: RAPISTS!
Okay... this picture isn't SO fantastic. But
the blog
from whence it comes is a reasonably good read and deserves a twice-, if not thrice-over. It's a news story about a McDonald's manager named Donna Summer who received a crank call from someone pretending to be a police officer who basically instructed her to subject a meek female employee to sexual torture for several hours at the hands of her fiancee. And didn't question whether it was weird or not. Yeah. Thought it was worth mentioning again.
12.)
JEM & THE HOLOGRAMS: THE MOVIE... DREAM CASTING
From
this blog
explaining my love for the truly outrageous 80's smash-hit cartoon
Jem & The Holograms
and my smouldering desire for it to be adapted, live-action, for the big screen. I then offered up some casting suggestions - pictured, Hilary Duff as 'Jem' and Lindsay Lohan as 'Pizzazz' - really spoke to some blog readers out there who want to see it happen as much as I do! Here's hopin'...
11.)
GLORIA GAYNOR... LIVE! (BARELY)
From
this blog
reflecting on the night that Yerxa, Kyte and I (so, the original lineup of Dreamboys) went to see Gloria Gaynor at Ultra (we didn't have to pay for the shit, which is why we went). GloGay hobbled side-to-side and seemed unable to move her right arm from the position it is in the picture, perhaps due to a freak stint of Bells Palsy... who knows? Anyway, even at 70-however-the-fuck-bitch-is, bitch was still able to knock her signature hit, "I Will Survive", out of the park. A good time was had by all....
particularly Yerxa and some 50-something ladies
.
Palette Cleanser Part 2:
A SULLEN LARISSA KEEPS WATCH AT THE GATES OF AUSCHWITZ
Again, from
this blog
following my first acquisition of my current photoshop program. Oh, I had this one in my sights for some time. Background story: back when Larissa and I were in the post-grad program that shall remain nameless where we met, we were on a field trip to some commercial production house that was as boring as the colour taupe. This particular day marked the anniversary of Auschwitz being closed down or something - Auschwitz was on the cover of "Metro" is all I can remember. And I whispered something about that to someone next to me, and all of a sudden Larissa - who's of very German descent - slowly yet purposely turns her head to me, peers her eyes and menacingly says, "Did you just say... Auschwitz?" as if to say "My ears are burning!" Anyway. It's been a running joke since then. And the above is what came of it photoshopping-ly.
10.)
JODIE FUCKING FOSTER
...
From
this absolutely masterful blog
, if I do say so myself, counting down the Top 10 people "I Can't Believe Made A Fucking Album In The 70's". Among them... Don Knotts as 'Gomer Pyle', Cheryl Ladd, Ethel Merman, an exceptionally obnoxious Strawberry Shortcake RAP song and the creme de la creme, Jodie Foster (a title which wouldn't be lost on her, no doubt). Pictured above is the album cover of Jodie Foster's spoken word Frenglish (part French, part English) disco record, the soundtrack to the film "Moi, Fleur Bleue". Featuring the now legendary "La Vie C'est Chouette" - loosely translated, "Life Is Sweet". In a world of uncertainty, at least one thing is certain: they couldn't have picked a more flattering picture of her for the album cover. Boner Juice? Absolument!
9.)
NANCY GRACE-FACE
From
this blog
recapping the absolute bedlam that occurred following the first installment of Bitch Salad. After a discussion of 'gay face', and the translation being "pursed lips and eyebrows set to an expression that is both surprised and predatory", the question was raised, "well, what if the lips are still pursed, but the eyes are just predatory and not surprised". Well, then, that's a different animal all together. It's called "Nancy Grace-face". Example A.) above. At the very least, this picture really illustrates exactly how a smart bob hairdo can transform someone.
8.)
FAT ELENA!

From
this blog
offering my personal Top 10 wish list for my birthday, Fat Elena served as the palette cleanser AND sufficient reason for no one to double-cross me and my awesome abilities to make you look fat as hell, even if you're beyond taute... as Elena is. MUAHAHAHA!
7.) Tie:
PRIDE PHOTOS
i.)
FULL-FIGURED SHE-MALES ARE DOIN' IT FOR THEMSELVES
ii.)
MOST SUGGESTIVE COMPANY IN THE PARADE
Both from
this blog
, my annual Pride roundup. You'll note that during the Pride parade, as OUT and PROUD as everyone is, they're noticeably camera-shy. I'm precisely the reason why.
6.)
DOUBLE EMMY WINNER, ANDREW JOHNSTON
From
this blog
suggesting my Top 10 choices of who should replace Rosie O'Donnell as moderator of "The View", I of course recommended myself at number 1 and backed it up with SOLID CREDENTIALS... i.e. a picture of me with my Best Supporting Actor Emmy for "Kate & Allie" and my Outstanding Guest Actor Emmy for "Gimme A Break" on the eve of the 1985 Primetime Emmy's. Of course this is all fantastical, fantastical bullshit. And only a handful of people know exactly the context and circumstances that the original photo was taken. And apparently, we'll all be taking that to our graves. How
exclusive
.
Palette Cleanser Part 3:
MY EXTENSIVE SEMI-PRIAVTE PHOTOSHOPPING EXPLOITS
Over the past year, I've gained quite a sturdy handle on photoshop, if I do say so myself, and as such, it's become quite a hobby of mine to seamlessly photoshop the faces of my loved ones onto the bodies of celebrities, both humorously and confoundingly blurring the lines of reality. I post them in a group on facebook entitled "Andrew Johnston Has Ruined/Enhanced My Life Via Photoshop" and it's provided many hours of delight and/or humiliation for all those involved. As such, I haven't posted them on here, but I'd be remiss to not include some of my finer efforts on here in this countdown... so as an extended palette cleanser, here are MY TOP 10 SEMI-PRIVATE PHOTOSHOPPING EXPLOITS OF 2007!
10.)
Anthony Suppa's Taking Chances... as Celine Dion
Rule of thumb: Any emaciated glamour queen's body can EASILY accomodate Anthony Suppa's face.
9.)
Kirsten Gallagher as geriatric sexpert Sue Johanson

Kirsten played her to great effect in a sketch show we did a million years ago in University. And quite honestly, looked EXACTLY like this picture. It's rather terrifying.
8.)
Outsider music sensation Heidi Brander, with Spencer Pratt, as Heidi Montag of "The Hills" fame
Doesn't this look weird? Here's why... the picture of Montag that I used initially had her face sliiightly upturned whereas outsider music sensation Heidi Brander's is sliiiightly downturned. That, and Heidi Montag's head is a full blown fucking YAM it's so fucking abnormally big.
7.)
Michael Lawrence Doyle Yerxa as the late, great Anna Nicole Smith
Yeppy. Classy & Classier. In a stroke of perfection/destiny, Yerxa's face shimmied right onto Anna Nicole (succeeded in the background by a bodyguard, and then-paramour/killer, Howard K. Stern) with the greatest of ease.
6.)
April Wozniak as Avril Lavigne
This one also turned out pretty stunningly, if I may say. One might even go so far as to call it, the best damn thing. tee hee.
5.)
Dana Alexander as Aunt Jemima
This is normally the point where I'd have a palette cleanser, but that would mean that I'd be having a palette cleanser WITHIN a palette cleanser, as this entire countdown is itself a palette cleanser for the main countdown, or final countdown for all you sports fans, so yeah... this is making my head spin... much like this photo of Dana did when I finished it. Oh, she was not happy about this, make no mistake about it. But I really didn't care, I did it for ME! Really I did. In tribute to the Hallowe'en costume she should but will never do. Balls.
4.)
Me, Yerxa & Anth as Chyna Phillips, Carnie Wilson and Wendy Wilson AKA Wilson Phillips
So I totally did post this here but it originated in my facebook group AND I think it's just that glorious that it deserves a second airing. It, of course, comes from me describing our friendship dynamic as "Wilson-Phillips-esque" and really hit the nail on the head.
3.)
Michael Yerxa as Roseanne

... ergo YERXANNE. This one made me giggle like a loon for days on end just to THINK about it. Outsider music sensation Heidi Brander made it into a T-Shirt for him. Wow.
2.)
Me as Angelina Jolie, out for an evening stroll with Brad Pitt
... a-k-a BRANDREW... it's a miracle we found a sitter... am I right?
But
There
Can
Only
Be
1.)
Anthony as Katie Holmes, with Tom, at the Bambi Awards
Of course this wins. OF COURSE. As I said, any emaciated Hollywood glamour girl who's overly postured and Anthony are EASILY interchangable. The proof is in the pudding, y'all.
Anyballs...
BACK TO THE REGULARLY SCHEDULED COUNTDOWN!!!
5.)
THE BIG CHILL 2
Personal note: from
this blog
describing the day that a slew of my University friends who hadn't seen each other in ages immediately congregated together to mourn for our dearly departed friend, Emma Bailey, who passed away in a car accident in late May. Thought I'd make mention. Rest in peace, E-Bai.
4.)
RING THE ALARM
In one of which I now assume is thousands of instances of me representing myself as Beyonce, this little number is from
this blog
that recounts the gory details of my birthday party. If an only I had that mothafuckin' weave. Things would be different, mark m'word.
3.)
VANESSA "PIZZA BEAV" HUDGENS NUDE NUDE NUDE!!!
From
this blog
posted as a response to a bunch of comments I got from the one-and-only Becky Johnson regarding my harsh treatment of Britney Spears' performance at the MTV VMA's... anyway, talk shifted to Vanessa Anne Hudgens' leaked nude shots and something was said in the neighborhood of "although I'm aware that you'd be unable to post the uncensored nude picture of Vanessa Anne Hudgens that's going around, could you please post it with her illicit areas covered by objects similar in size and composition". And that's where the googly eyes and generous pizza slice came into play. Hot
2.)
THE HOMOSEXUAL AGENDA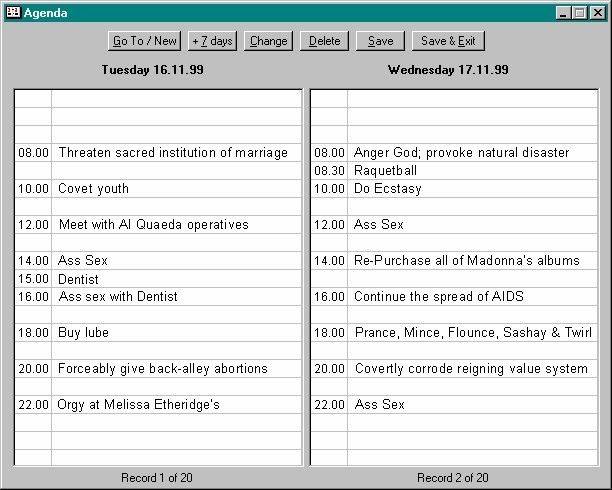 From
this blog
celebrating the death of Bigot Icon Jerry Falwell, it was a simple hypothesis on what I hypothesize the Evangelical population of the United States perceives the 'gay agenda' to be.
But
There
Can
Only
Be
1.)
STACEY THE SEXY KID
From
this blog
recapping a random episode of "To Catch A Predator" - the greatest show of all time. I love it for so many reasons: I.) It's a beach scene, and who doesn't long for the endless days of summer right now? Am I right? Am I right? II.) It's not portraying anything legitimately indecent, yet it's so wrong in so many ways. It's not often that you can actually stumble upon something that genuinely treads the line between decency and indecency. III.) I can't tell you how much I would give to have the stomach of whichever 12-year-old girl I photoshopped my head onto. Holy fuck. And just like that, I'm manorexic again.
Anyway... that's that.
Tune in tomorrow when I stop fucking reminiscing...
Happy New Year!
--- Aj