Happy Friday to y' and y'rs...
Firstly - thank you Kitchener. You're just lovely, lovely people. Last night's show was a blast and a half. And I finally got things cleared up as to exactly what separates Kitchener & Waterloo - it's a river and a few street signs, apparently. And not, as I had guessed, a wall that houses a communist city-state on one side and Westernized values on t'other.
Secondly - I can promise you this: starting today at 8 PM, I am going to sleep for 48 hours straight. I'm effin'
wiped
. I will only wake up to catch Ellen Page host SNL and resurface sometime Sunday night to prepare for the next installment of Bitch Salad -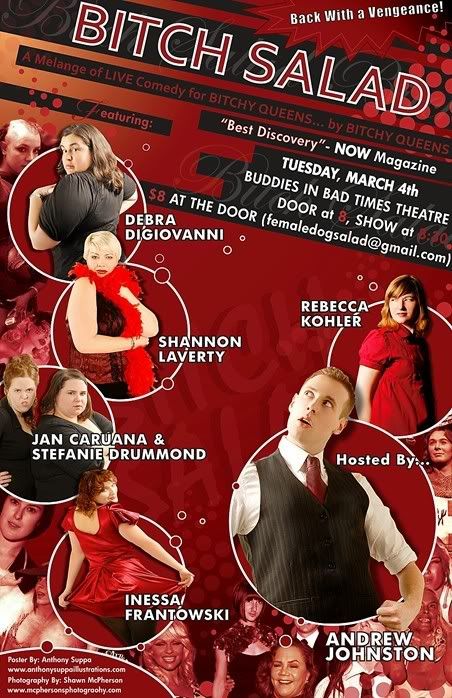 WHICH IS JUST 4 MOTHERFUCKING DAYS AWAY!!! AHHHH!!!
Thirdly - Okay. So I missed the mark HUGECORE last night on
Idol
. The only one of my predictions that came true was Jason Yaeger-Bomb. Who actually looked surprised. Jesus.
I was pleasantly surprised to see Robbie Carrico sent packing as well. My throat is that much more comfortable now knowing it won't have notions that Robbie's a ROCKER shoved down it constantly from now on.
On the girls side: SHOCKING. Well, sort of. I was really disappointed to see Alexandrea Lushington leave us... I really hate it when they sing songs that are really fitting when they depart - shit that all of a sudden becomes really literal. Such as "If You Leave Me Now". Or "Hopelessly Devoted To You" - the song that did supposed "dark horse" Alaina Alexander in.
Who the balls saw that one comin'? When Ryan brought her and the inexplicably sustaining Kady Malloy centre stage, everyone in the world was expecting Kady to be served her walking papers - no one more so than Kady, by the looks of it. The look on her face when she found out she was safe and t'was instead Alaina going home was priceless. PRICELESS. I swear to Christ I watched it like 13 times. It was like "I have so thoroughly accepted that I am going home this week... here comes my name... here comes my name... I'm going to thank my family and America for voting for me... then I'm going to sing "Magic Man"
again
, and it's going to suck
again
... I totally won't cry because I SO know that I'm going home... then, I'm going to go back to the hotel and pack my curling iron- WHAT THE FUCK?! I'M SAFE?!"
Then Alaina had a crackdown that y'haven't seen in a coon's age on that program. I thought she was gonna run off stage or something - it was awesome. Ahhh well. And that's done.
In other reality programming news, America's Next Top Model debuted its 10th season this past week, and it was revealed that the resident "oldest living supermodel" spot on the judge's panel is now occupied by Paulina Poroskova, who has now replaced Twiggy (who herself replaced Janice Dickinson).
Naturally, I'm not sold on this decision. Mind you, I was never a fan of Twiggy, but I was getting used to her I suppose. At least she was a bonafide fashion Icon, if not a crazy bitch like Janice.
But Paulina Poroskova?! She's fucking NEITHER! I can think of about a million choices that would have been more suitable and more effective to occupy the "eccentric retired supermodel with years of wisdom in the business to impart on fledgling pseudo-models".
And, since it's Friday - a day made for countdowns - here is my list of
Top 10 Crazy, Old-As-Hell Retired Models Who SHOULD Have Replaced Twiggy Instead of Paulina BORE-oscova
!!!
Some omissions before we begin: Supermodels already attached to fashion-reality shows (Heidi Klum, Elizabeth Hurley, Iman) are inelligable; Naomi Campbell is inelligable due to the fact that Tyra openly despises her; Giselle Bundchen is inelligable because I think she's a skank.
Annnnnd we begin -
10.)
LINDA EVANGELISTA
Linda Evangelista
clocks in at 42 years old and hails from St. Catherine's, Ontario, CANADA! WOO-HOO. She entered modelling in 1978 upon winning the Miss Teen Niagara Pageant - which, I have to assume was filled with some real fuckin' beauts... if you know the Niagara regian local aesthetic, I'm sure you can understand. Aaaanyway - she was one of the Big 5 Supermodels back in the day... along with
Cindy Crawford
,
Naomi Campbell
,
Claudia Schiffer
and
Christy Turlington
- her claims to fame include kick-starting the whole "women having short, boyish haircuts" movement, lip synching
George Michael
songs and speaking the now-infamous quote "I don't get out of bed for less than $10,000 a day". With blithe arrogance like that, I'm certain she would have been an asset at the ANTM judging table.
9.)
JEAN SHRIMPTON
Jean Shrimpton
is 65 years old and comes to us from Buckinghamshire, England. A staple of Londontowne in the swinging 60's, "The Shrimp" help make the emaciated, working class waif the gold standard that all models must abide by since. "But wait, aren't you talking about Twiggy?" Yeah... her and Twiggy are pretty much interchangable. They rose to fame at pretty much the same time in pretty much the same place for pretty much the same reasons. Her claim to fame, besides inventing anorexia, is that she wore the first miniskirt... EVER! Apparently bakc in 1965 she went to this huge hoity-toity sporting affair wearing a white skirt that went - *GASP* - above the knee. This was a huge fucking deal at the time. It spurred a revolution. Skanks have been rejoicing ever since. Seeing as her and Twiggy are basically the same person, and she'd have that whole "I wore the first mini-skirt EVER" thing going for her, I can't see her being out of place on the ANTM panel.
8.)
CAROL ALT
Carol Alt
rings in at 47 years old and hails from Long Island, NY. Rocketing to fame in the early 90's via the Sport Illustrated sensation, Carol is yet another model who claims to be the first super model - she claims that title was given to her by then-head of Elite Models blah blah blah. She's gone on to star in a bunch of movies (mostly European for whatever reason) and wrote a book about the Raw diet - all raw foods, all the time. Currently, she can be seen proving her business acumen and tussling with Z-Listers Omorosa and Stephen Baldwin in the final episodes of
The Celebrity Apprentice
(a show that I swear to Christ I'm the only person watching). Opinionated and clearly at ease in a reality show environment, I think Carol would be a welcome addition to the ANTM inner circle.
7.)
VERUSCHKA
Countess Vera von Lehndorff-Steinort
, better known as
Veruschka
, is 68 years old and was born into an affluent family in Prussia (now Russia). Her father was a Nazi resister and tried (and failed) to assassinate
Adolf Hitler
! Well Adolf didn't take too kindly to that and had her father hanged. She spent many years in various labor camps until the end of the war, that then saw her study art in Hamburg. She was discovered by a photographer whilst there and her career as a model took off under her mysterious moniker "Veruschka". Towards the end of the 70's, she moved away from modelling and into the art world, becoming one of
Salvador Dali's
muses. From what I can gather, she had quite a penchant for body painting. Anyway - the woman's batshit nuts, peaked during the cocaine and art scene of the late 1970's and still looks good at almost 70. Isn't that more than enough reason to add her to the Top Model panel?
6.)
JERRY HALL
Jerry Hall
is 52 years old and hails from Mesquite, Texas. Weird, right? I always thought she was British. She's kind of got a British accent. That's kinda fucked. Annnnyballs - this 6-foot stunner is yet another model who came of age in the fast and nasty 1970's, starting by treading the catwalks of Paris and eventually repping makeup giants like Revlon - but it's undoubtably her penchant for rock stars that have brought her most of her notoriety. Specifically, her turbulent decades-long affair with Mick Jagger. They finally stopped kidding themselves and called it quits for good a few years back, despite the fact that they share 4 children together. Of late, Jerry starred in her own reality show entitled "Kept" - which saw her put a dozen bachelors through charm school intending to annoit one as her new mate... yeah, it was fucking horrible. I think I watched 3 minutes of one episode and was like 'THIS SUCKS!' More of late: she's now the global spokesperson for erectile aid Levitra. Anyway, she's crazy, she's a total bitch, she's a fame wore and she's lived hard. I couldn't think of a better fit for ANTM.
Palette Cleanser:
DONYALE LUNA
Peggy-Anne Freeman, otherwise known as
Donyale Luna
, was born in 1945 in the Detroit projects (directly around the corner from Stevie Wonder, Diana Ross and Smokey Robinson, I'd have to assume. All those folks grew up around the block from each other back then, I swear...) Donyale was a big fucking deal when she broke in the mid-60's. At 6"2 and unimaginably thin, she was the muse of the greatest artists of her time:
Warhol
,
Avedon
,
Fillini
... the list goes on. She was the first black cover girl EVER - appearing on Harper's Bazaar and Vogue back in the mid 60's. But all was not right upstairs - described as 'always being in a dreamlike state' as a child, she developed an affinity for LSD and things just went to shit. Towards the end of her career, she started to develop some very
erratic
behaviour that included but is not limited to missing bookings, going everywhere barefoot and even speaking in her own alien language - shit that really is what dreams are made of in terms of having a crazy bitch judge on a modelling competition. Unfortunately that dream will never be realized as Luna passed away in 1979 at 34 years old.
5.)
PEGGY MOFFITT
Peggy Moffit is a lucky 69 years old, heralds from California and is easily the hottest bitch alive. Alongside visionary and co-hort
Rudi Gernreich
, Peggy became
the
poster girl for the avant-garde Mod movement and, I'm quite certain, could see her 20-year-old self walk into any hipster fete wearing any of the clothes that she did back then and easily make Vice Magazine's "Do's" each and every time. Her signature look was very signature: heavy eye makeup inspired by Japanese Kabuki theatre and a modified bowl cut known at the time as "the five point". This woman is fucking awesome - LOOK AT HER! I'm still not sure that the world has caught up to her. She's clearly got an eye for what's next AND she's
CLEARLY
not afraid to go outside looking a busted mess, so for fuck sakes Tyra, PUT HER ON THAT PANEL!
4.)
LAUREN HUTTON
Lauren Hutton
is a big, bad 64 years old and hails from Charleston, North Carolina. The woman who many people stand in consensus with being the original supermodel, she was the first model to score a contract with a major costmetic chain and promote herself as a brand. Her healthy, earthly, All-American-girl image was a huge shit deal when it hit, and she parlayed that into a reasonably successful stint in film. A self-proclaimed "adventuress" and avid motorcylist, Hotton's lived fast and hard, suffering some significant injuries and had more than a few near-death experiences - Read: She's insane in the membrane. Read: She's perfect as a judge on ANTM. I'm actually really surprised that this one hasn't come to fruition... hmmm...
3.)
CARMEN DELL'OREFICE
Giving Peggy Moffitt a run for her money for hottest bitch alive,
Carmen Dell'Orefice
is a whopping 77 YEARS OLD and comes from New York. Talk about aging gracefully - still treading the catwalks and mugging for the cameras, this septugenarian has vowed to "die with my high heels on". She had her first Vogue cover at age 15 and has been working steadily since. I'd have to imagine someone with a career that spans 7 decades might have a pearl of wisdom or two to impart in the ANTM world.
2.)
GRACE JONES
Ohhhhhh shit. 59-year-old
Grace Mendoza
is originally from Jamaica, but relocated to Syracuse and became Grace Jones soon thereafter. After a stint in Paris (in which she roomed with fellow list-er, Jerry Hall) she moved to New York and because of her bizarre, cutting-edge, androgynous appearance, became the toast of the downtown subculture. A record-deal and modest yet impacting career as a recording artist followed - largely with dance music. This lasted, believe it or not, for three decades or so. Also dabbling in movies, her more prominent credits include "Boomerang" with Eddie Murphy and the unforgettable Mayday in "James Bond: A View To A Kill". She's a tastemaker and an iconic image, plain and simple. She's got balls six ways to Sunday. She's be absolutely perfect...
But
There
Can
Only
Be
1.)
JANICE DICKINSON
Oh hells to the yes. Biggest mistake ever? Getting rid of Janice Dickinson in the first place. No one could possibly do it like Janice, a fact that's not lost on her absolutely amazing reality show, "
The Janice Dickinson Modelling Agency
". If you haven't seen this show, youtube it. You must. It's amazing. Easily better than America's Next Top Model ever was. No one could cuss a girl out or blithely champion a blatantly anorexic girl like Janice. And I doubt anyone ever will.
Annnyway... looks like we're stuck with Paulina BORE-oskova for a while. Oh well.
In other news:
VOTE! For the Bitch YOU Loved In February
HERE
! And for the Bitch YOU Hated in February
HERE
!
Polls close on Monday!!!
I'm off to nap...
--- Aj